MONISTAT® Derm™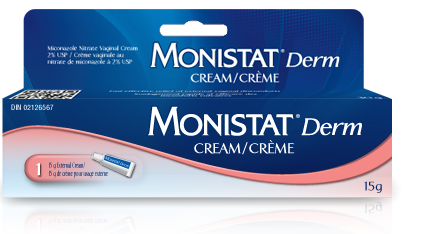 For fast relief of external itching, burning, and irritation associated with vaginal yeast infections, MONISTAT Derm™ should be used only in conjunction with MONISTAT® vaginal ovules, vaginal suppositories, or vaginal cream. Available in 15g and 30g packages.
Apply a thin layer of cream to the itchy or irritated genital area in the morning and evening as needed. Massage gently until the cream disappears.
Active Ingredients
Miconazole nitrate vaginal cream 2% USP
Nonmedicinal Ingredients
(alphabetical): benzoic acid, cetyl alcohol, isopropyl myristate, polysorbate 60, potassium hydroxide, propylene glycol, purified water, stearyl alcohol.
Use for external genital itching and irritation only if you have already had a vaginal yeast infection diagnosed by a doctor and you have the same symptoms now, otherwise talk to a doctor. If condition persists, discontinue use and talk to your doctor. Do not use for children under 12 years of age or if you are pregnant or breastfeeding unless advised by a doctor. FOR EXTERNAL USE ONLY. In case of accidental ingestion, call a doctor or Poison Control Centre at once.
Do not use if carton is open or tube seal is punctured.
Store at room temperature (15-30° C)
Product Monograph available to doctors and pharmacists on request.