MONISTAT® 3 Vaginal Cream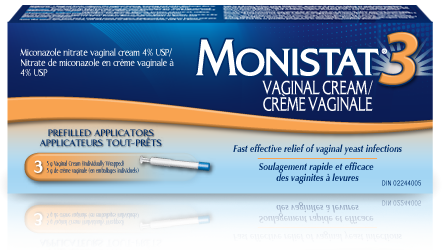 MONISTAT® 3 Vaginal Cream relieves the vaginal itching, burning and white discharge due to vaginal yeast infections (candidiasis).
Read leaflet for full directions and precautions before use. Insert one prefilled disposable applicator of cream into the vagina for 3 nights in a row, even if menstruating. For vaginal use only. Do not take by mouth.
Active Ingredients
Miconazole nitrate vaginal cream 4% USP
Nonmedicinal Ingredients
(alphabetical): benzoic acid, cetyl alcohol, isopropyl myristate, polysorbate 60, potassium hydroxide, propylene glycol, purified water, stearyl alcohol.
Do not use if carton or applicator overwrap is open. Store in a dry place at room temperature (15-30° C). Product Monograph available to doctors and pharmacists on request.
If you have had a vaginal yeast infection diagnosed by a doctor before and you have the same symptoms now, use this product as directed; otherwise, talk to a doctor.
Talk to a doctor before using MONISTAT® products if you are taking an oral anticoagulant (blood thinning medication) such as warfarin, if you are pregnant or think you may be or if you are breastfeeding. Talk to a doctor before use if you have: a fever; unusual pain in the back or lower abdomen; foul-smelling vaginal discharge, or if any of these symptoms develop during treatment.
Not all vaginal infections are caused by yeast. Talk to a doctor if, after starting treatment, there is no improvement within 3 days or symptoms last more than 7 days or return within 2 months. Discontinue use if skin rash, hives, abdominal cramps or new irritation occurs.
Not for use by children under 12 years of age unless directed by a doctor. This medication reduces the effectiveness of latex condoms and diaphragms.